WHAT SETS ME APART
SKILLED NEGOTIATION
AN EMPATHETIC APPROACH
CONFIDENCE IN THE COURTROOM
SKILLED NEGOTIATION
Owning a business for 30 years before I became a lawyer allowed me to hone my negotiation skills. I'm ready to seek favorable resolutions for you when you need them.
AN EMPATHETIC APPROACH
This isn't an easy time for you. I understand. Every family I work with knows I'm here to answer any concerns or questions as I offer reassurance and a listening ear.
CONFIDENCE IN THE COURTROOM
In court, confidence is key. When the litigation process reaches the courtroom, it's important to trust a family law attorney who has truly been there before.
FAMILY LAW & DIVORCE ATTORNEY IN MINNEAPOLIS, MINNESOTA
HELPING FAMILIES MOVE FORWARD SINCE 2012
MICHAEL FINK
I've always been interested in helping families move forward. After graduating in 2012 from New England Law in Boston, I decided to pursue a career that gives individuals and families in Minneapolis the personalized legal support they need to regain peace of mind and pursue brighter futures.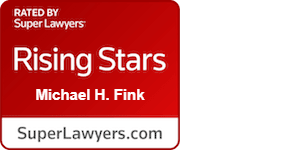 FAMILY LAW FOCUSED
I HAVE DEDICATED MY CAREER TO HELPING FAMILIES OVERCOME THEIR LEGAL ISSUES. MY TOP PRIORITY IS ENSURING THAT YOUR VOICE IS HEARD AS WE WORK TOWARD A RESOLUTION TOGETHER.
For the Twin Cities & the Rest of Minnesota
Families in Minneapolis and throughout our state reach out to me with many concerns: How will I get through this divorce? What are Minnesota's paternity laws? Should I write a prenup? With the proper legal guidance, my hope is that you'll feel empowered to tell your story and start moving forward.
"I WILL BE FOREVER GRATEFUL FOR HIS EXCELLENT WORK ON MY BEHALF."
"Michael Fink was my steady guide through the entire emotional process of divorce. He listened well and interpreted the legalese for me with patience and clarity. Mr. Fink kept my best long-term interests paramount in his strategy and I will be forever grateful for his excellent work on my behalf."
"I CAN'T THANK MICHAEL ENOUGH."
"Michael has been my lawyer through it all. He's taken care of my struggles to get parenting time, helped with getting me a break in child support due to my circumstances, and the most important part he got me an evidentiary hearing. If you want to be represented correctly you need to call him as soon as possible. I can't thank Michael enough."
"THERE WAS MICHAEL FINK: INSPIRING CONFIDENCE, IMPARTING WISDOM, AND REASSURING ME. "
"I was scared. I was embarrassed. I was worried about what people would think, and worst of all, I had no idea what to do. Michael Fink was there for me when I needed support and guidance. I was going through the worst period of my life. But, there was Michael Fink inspiring confidence, imparting wisdom, and reassuring me. He was in my corner."
"I AM VERY HAPPY THAT I FOUND HIM."
"I have contacted a couple of other law offices but none of them took the time to explain to me the process thoroughly as Mr. Michael Fink did. Mr. Michael didn't give me false promises and he walked me through the expectations that I need to have...I can say he was always accessible and prompt. I am very happy that I found him."
"HE GAVE ME CONFIDENCE IN THE CHOICE I MADE TO GET A LAWYER."
"From the moment I sat down with him he gave me confidence in the choice I made to get a lawyer. Everyone has their ways how they would like things to go, but not always are they the right actions. Michael Fink showed me every outcome of how a situation would go down if I chose to walk the road I wanted to walk. Thank you, Michael."
ADVOCATING FOR YOUR CHILD'S BEST INTERESTS
---
LET'S CREATE A COMPREHENSIVE CUSTODY ARRANGEMENT
In Minnesota, child custody can be complicated. Let me help you negotiate parenting time, modify existing arrangements as children grow older, change legal custody, and more.
SECURE THE FINANCIAL SUPPORT YOU NEED
No matter what kind of child support you're seeking, it's important to stay compliant with Minnesota law—all while ensuring fairness for you and your family. We'll collaborate to find a solution that keeps your child's best interests in mind every step of the way.
LET'S GET STARTED
DON'T FACE THE DIFFICULTIES OF DIVORCE ALONE
I'M HERE TO INFORM YOU OF YOUR RIGHTS, ADVOCATE FOR YOUR BEST INTERESTS, AND HELP YOU START THIS NEW CHAPTER WITH CONFIDENCE.
At Michael Fink Law, PLLC, I understand that family is everything. When an issue arises involving your loved ones, it's natural to feel unsure of your next steps. That's why it's so important to reach out to an attorney who can offer guidance through a wide range of family law issues.
Whether you're trying to negotiate parenting time, seeking guidance in property division, or if you have a question about child support in Minnesota, I'm ready to help. Set up a free consultation with me in Minneapolis today.
---
No matter your family issue, you're likely emotionally overwhelmed. I remind my clients that the path to a resolution is a marathon—not a sprint. As you travel the path to peace of mind for you and your family, remember to always take the high road while remaining patient and practical. I'll be there with you, every step of the way. I'll listen to your story, seek to understand your situation, and help you pursue the future you and your family deserve.
If you're ready to start moving forward, I'm ready to meet with you and see how I can help. For individuals and families throughout Minnesota, including St. Paul, Edina, Minnetonka, and St. Louis Park, I offer a family law service centered on you, your children, and your future. I'm honored to serve clients in Minneapolis, as well as Anoka County, Ramsey County, Dakota County, Carver County, and Washington County, Scott County, Isanti County, Wright County, Stearns County, Minnesota. Schedule a free initial consultation with me to get started.